Tandem Flights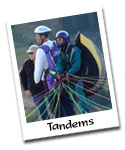 Paraglider Paragliding Tandem Flights - $180
Experience the joy of your first flight the easiest, fastest, and safest way. If you can jog 50 feet for takeoff and weigh less than 220 lbs, you can fly with us!
The tandem lesson flight consists of a short briefing including some paragliding history and some brief hands on with the equipment followed by a flight off the top of a 200 foot hill. A tandem flight is best for the person seeking an exciting one-time experience, with minimum commitment.
*Included with this lesson is several coupons towards future Rapture Air Paragliding lessons.
* Tandem passenger weight cannot exceed 220lbs.
* Must be 18 years old or older to fly Tandem
Call or Email for appointment